Acupuncture at VAMT is a beneficial practice in balancing the body. We have created an experience to assist you in reconnecting with yourself and the world around you. You will be welcomed by warm lighting, soothing music, a warm, cozy bed and a comforting and highly trained Acupuncturist. We invite you to our haven and give you space to unwind, breath and take time for you.
We offer the following Chinese Medicine modalities:
-Acupuncture and acupressure
-Cupping
-Chinese herbs
-Tui na (Chinese massage)
-Moxa
-Food therapy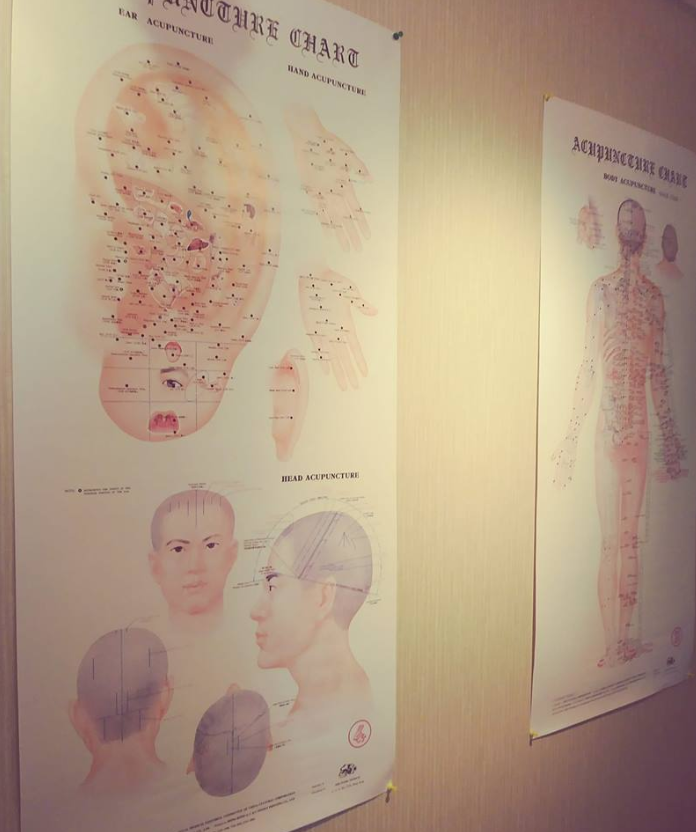 The Benefits of Acupuncture
Pain alleviation/alternative to pain medication
Relief from headaches and migraines
Stress reduction and prevention
Relief of anxiety, depression, PTSD
Balance of emotions and energy
Restful sleep
Immunity enhancement
Relief of cold and sinus symptoms
Hormone balance
Fertility obstacles
Posterior or breach baby
Hot flashes
Skin health (acne, rashes, Shingles
Acupuncture FAQ
What is Acupuncture?
Acupuncture is a technique, originating in ancient China, which inserts fine needles in the body in order to illicit a healing response. It's an effective therapy used to treat a wide variety of health concerns. Examples include: Low energy, insomnia, back and neck pain, sciatica, headache, jaw pain, nausea and vomiting, hypertension, allergies, sinus pain, plantar fasciitis, premenstrual tension, menopausal symptoms, anxiety and depression and many more.
How does acupuncture work?
Our bodies innately want to heal themselves. When you are injured, anything from breaking a bone to a paper cut, your body will start the process of healing. Broken bones will grow back together (might need to be reset of course!) and paper cuts are gone before you know it. Acupuncture uses needles to illicit that same healing response except this time, the trauma is painless, safe and intentional, microscopic and doesn't hurt.
How many times will I need to come in for treatments?
Our goal is to see you once or twice a month, for as long as you'd like. However, in the beginning few months, treatments are closer together to help the body learn a new way of living. The questions below help answer how long your initial treatment plan will be:
1) How long has the issue been there?
Generally speaking, chronic cases take longer to reach a balance in the body than acute.
2) What does your overall health look like?
The more in-balance the body is, the faster it heals. We all have layers of physical, emotional and spiritual trauma. How deep is yours?
3) You availability for treatments
We like treatment plans. In the beginning, seeing you twice a week for 3 weeks might be recommended. But, we understand not everyone can make this work. Know that the more you can come in, especially in the beginning, the more energy you are giving your body to recover and recover quickly.
Can you treat my problem?
Chinese medicine can be helpful for most health conditions. Acupuncture, cupping, moxa, food therapy, lifestyle changes and Chinese herbal formulas can address many, many health concerns. Still wondering if we are right for you? Contact us!
Can I get acupuncture for wellness?
Yes! Acupuncture strengthens the body to prevent illness. People use Chinese traditional medicine as part of their health maintenance plan. After an initial treatment series, people may choose to come in bi-weekly or monthly to maintain their improved health.
Is acupuncture covered by insurance?
Rachel Jensen takes Health Partners, Cigna and Preferred One.
If you have any of these insurance providers, please call them prior to your first visit to verify coverage as plans vary. If you do not have coverage or do not have these health care providers, we offer a same-day payment plan at a discounted rate to all patients as well as an Acupuncture Punch Card. We know insurance can be confusing so please don't hesitate to call us for more information.